Michigan welcomes motorcyclists with its distinct blend of natural beauty and rich history, offering an adventurous ride from the shores of the Great Lakes to the scenic roads of the Upper Peninsula.
The picturesque landscapes of the Upper Peninsula and the winding roads along Lake Michigan's coastline provide a captivating backdrop and thrilling journeys for motorcycle enthusiasts.
Before cruising through the state's varied landscapes and historical sites (from the urban streets of Detroit to the forested trails of its northern wilderness), it's legally required to buy sufficient insurance.
Michigan Motorcycle Insurance Requirements
Based on Michigan's insurance laws, your motorcycle insurance policy needs to include sufficient bodily injury liability, property damage liability, and personal injury protection (PIP) coverage.
Liability Insurance
$50,000 for bodily injury liability per person.
$100,000 for bodily injury liability per accident.
$10,000 for property damage liability per accident.
Medical Payments (MedPay) Coverage
All motorcyclists that ride without a helmet in the state of Michigan are required to have at least a minimum amount of medical payments insurance coverage (sometimes called "MedPay").
$20,000 in medical payments (per driver & rider without helmets)
Motorcyclists must also have at least $20,000 in medical payments coverage for each passenger that rides without a helmet.
What about Personal Injury Protection (PIP) & No-Fault Law?
Michigan's "No-Fault" Law is a type of insurance system wherein each driver or their insurance company pays for their own injuries and damages in accidents – regardless of who is at fault.
While Personal Injury Protection (PIP) coverage is required in the state of Michigan for most motor vehicles – motorcycles are exempt from this requirement.
What about uninsured & underinsured motorist (UM/UIM) coverage?
While Michigan does not mandate uninsured motorist (UM) coverage for motorcycles, it's highly recommended.
This coverage protects you if you're in an accident with a driver who lacks insurance or is underinsured.
Typical coverage amounts, if chosen, are similar to liability limits, such as $20,000 for bodily injury per person and $40,000 per accident.
Note: Minimum motorcycle insurance requirements will be subject to future change. For the latest most updated information, check with the official Michigan DMV.
Note: For the most accurate & updated insurance requirement information, check with the Michigan DIFS (Department of Insurance & Financial Services).
Additional Michigan Motorcycle Insurance Coverage Options
Below are some additional motorcycle insurance coverage options for those who want more than the bare minimums.
Replacement Value Coverage: This insurance pays for a new motorcycle of equivalent make and model if yours is totaled, an invaluable option for owners of newer models.
Gap Coverage for Loans/Leases: Tailored for financed motorcycles, this covers the financial gap between your bike's actual value and the outstanding loan or lease amount.
Collision Coverage: Regardless of who's at fault, this coverage handles the costs of repairing or replacing your motorcycle in the event of a collision.
Comprehensive Coverage: Protects against non-collision incidents, such as theft, vandalism, or environmental damages like floods or fires.
Medical Payment Coverage (MedPay): This type covers medical expenses for you and passengers after an accident, regardless of fault.
Customization Insurance: For bikes with custom parts or enhancements, this insurance covers repair or replacement costs of these unique features.
Roadside Assistance: Provides support services like towing, fuel delivery, and battery jump-starts in case of roadside breakdowns.
Trip Interruption Coverage: Offers financial assistance for expenses like lodging and meals if your motorcycle breaks down mid-trip.
Accessory Insurance: Protects additional accessories attached to your motorcycle, such as helmets and saddlebags, against various damages or theft.
Gap Insurance: Essential for financed or leased motorcycles, covering the difference between the motorcycle's actual cash value and the remaining balance on your loan or lease if it's a total loss.
Depreciation-Free Coverage: This option reimburses you for the full replacement cost of your motorcycle, ignoring depreciation, in case of a total loss.
Personal Belongings Coverage: Insures items carried on your motorcycle, like electronic devices or camping equipment, against damage or theft.
Enhanced Injury Coverage: Offers additional protection beyond standard MedPay, with higher coverage limits for accident-related injuries.
Protective Gear Insurance: Covers motorcycle-specific gear, such as helmets and jackets, if damaged in an accident.
Note: The specific insurance coverage offered may vary significantly between companies. Consult an insurance agent to determine the ideal coverage for your specific needs in Michigan.
Motorcycles, Mopeds, Scooters: Defined in Michigan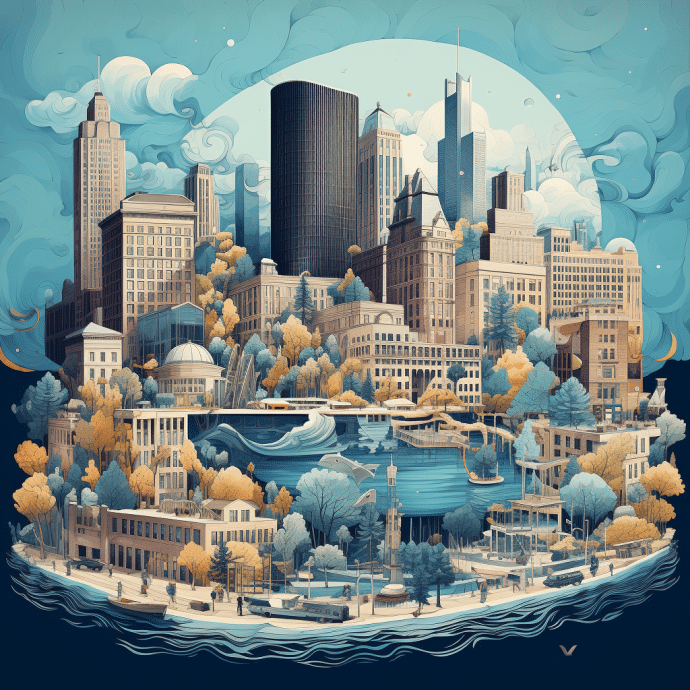 Basic definitions for motorcycles, mopeds, and scooters in the state of Michigan are below.
Motorcycle
Defined as a motor-driven vehicle equipped with a seat or saddle for the rider, and designed to travel on no more than three wheels in contact with the ground.
This category encompasses vehicles powered either by internal combustion engines or electric motors.
Moped
A moped in Michigan is characterized as a vehicle that:
Is designed to be propelled by human power with motor assistance.
Is equipped with pedals that drive the rear wheels.
Has 2 or 3 wheels, one of which must be over 14 inches in diameter.
Features a motor with a rating of no more than 2 brake horsepower. If it has an internal combustion engine, the capacity must be 100 cubic centimeters piston displacement or less.
Cannot exceed 30 miles per hour on a flat surface.
Motor Scooter
In Michigan, motor scooters are not separately defined in the vehicle code.
They are often categorized based on their engine size and speed capabilities, which could classify them either as mopeds or motorcycles.
Scooters with engine sizes larger than what is defined for mopeds, or those capable of speeds greater than what is allowed for mopeds, are generally treated as motorcycles.
Note: Definitions may be modified in the future – so verify with a legal expert or Michigan Law to ensure accuracy.
Smaller Vehicles Insurance in Michigan
Below are various insurance requirements (or lack thereof) for smaller vehicles like motorcycles, mopeds, motorized scooters, ORVs/ATVs, and electric bikes (e-bikes) in the state of Michigan.
Motorcycles
Must have liability insurance coverage for bodily injury and property damage.
Requires Medical Payments Coverage for drivers and passengers without helmets.
Need a full motorcycle insurance policy to operate legally.
Mopeds
Insurance is not required for mopeds (motorized bicycles) in the state of Michigan.
That said, you still need to register the moped and need a license to operate it.
Motor Scooters
Small scooters with low maximum speeds and small engines generally won't need insurance in Michigan.
Larger scooters with higher maximum speeds (30+ mph) will be classified as motorcycles and thus need insurance.
Electric Bicycles
No insurance requirements. Treated as regular bicycles.
Note: If you are unsure about whether your vehicle requires insurance in the state of Michigan, contact a legal expert and/or an insurance company directly – they'll be able to determine what you need.
General Rules & Regulations for Motorcyclists in Michigan
Below are some general rules and regulations that must be followed by motorcyclists in the state of Michigan.
It is recommended to review some riding laws so that you're aware of what is permitted such as to avoid legal consequences.
Lane Splitting: In Michigan, lane splitting – the act of riding a motorcycle between lanes of traffic – is illegal.
Helmet Use: Michigan law requires all motorcyclists and their passengers to wear helmets unless they meet certain criteria, including being over 21 years of age, having at least $20,000 in medical benefits, and having held a motorcycle endorsement for at least two years or passing an approved motorcycle safety course. Helmets must meet U.S. Department of Transportation (DOT) standards and should be securely fastened.
Handlebar Height: Michigan does not have a specific law regarding handlebar height, but it's advisable to ensure handlebars are at a safe and comfortable level.
Insurance: Motorcyclists in Michigan must carry liability insurance, including bodily injury and property damage coverage. Personal Injury Protection (PIP) insurance doesn't apply to motorcyclists.
Eye Protection: While Michigan does not have a specific law mandating eye protection for all riders, it's highly recommended, especially if the motorcycle lacks a windshield.
Exhaust Noise: Motorcycles in Michigan must have mufflers, and modifying a motorcycle's exhaust system to increase noise beyond the factory level is prohibited.
Passenger Safety: Motorcycles carrying passengers must have appropriate seating and footrests for the passenger. Passengers are encouraged to wear DOT-compliant helmets for safety.
Mirrors & Lighting: Motorcycles must be equipped with rear-view mirrors and have their headlights on at all times.
Licensing: To legally operate a motorcycle in Michigan, riders must have a motorcycle endorsement (CY) on their driver's license.
Note: This summary provides a general understanding of motorcycle laws in Michigan. For comprehensive and detailed information, it's best to consult the Michigan Secretary of State or refer to the latest state laws and regulations. Laws can evolve, and it's important to stay informed of current requirements.
Legal Penalties for Driving without Motorcycle Insurance in Michigan
If you choose to operate a motorcycle without insurance in the state of Michigan, you may be subject to a variety of legal consequences.
Not being able to present proof of insurance may lead to significant penalties, including fines and potential incarceration.
First Offense: A motorcyclist could be fined up to $500. Additionally, they may face fees for reinstating a suspended license or registration. While there may not be an immediate suspension of driving privileges, the offense can result in the addition of points to the driver's license.
Second & Subsequent Offenses: The penalties become more severe with subsequent offenses. Fines could increase up to $1,000, along with reinstatement fees. Repeat offenses might result in the suspension of both the driver's license and the motorcycle's registration. The accumulation of points on the driver's license is also a consequence, and in some cases, imprisonment may be considered.
Providing False Evidence of Insurance: This act is considered a misdemeanor in Michigan. It can result in a fine of up to $500, and/or imprisonment for up to one year.
Note: Penalties may be subject to future change/modification – check with a legal expert or Government of Michigan resource to determine the most accurate penalty information.
FAQs: Michigan Motorcycle Insurance & Riding Rules
Some frequently asked questions (FAQs) about motorcycle insurance and major riding regulations in the state of Michigan are presented below.
Do you need a specific license to drive a motorcycle in MI?
In Michigan, to legally ride a motorcycle, you need a motorcycle endorsement (CY) on your driver's license.
Obtaining this endorsement involves passing a knowledge test and a skills test, or successfully completing a state-approved Motorcycle Safety Program course.
Are there penalties for riding without motorcycle insurance in Michigan?
Riding without motorcycle insurance in Michigan can lead to significant penalties, including fines, possible jail time, and suspension of your license or vehicle registration.
It is never recommended to operate a motorcycle without insurance in Michigan – for the sake of yourself and other drivers.
What things impact motorcycle insurance prices in Michigan?
There are many things that can have a major impact on motorcycle insurance pricing in Michigan – including: age of the motorcyclist, specific motorcycle getting insured, discounts from insurers, frequency of riding (year round vs. seasonal), and driving history.
Is it possible to get a low-cost insurance plan in MI?
Yes, the cost of motorcycle insurance in Michigan varies based on: specific motorcycle insurance coverage you purchase, your age, your motorcycle type, discounts you're able to get, your driving history, and more.
Comparing quotes from different insurers and opting for essential coverage can help reduce costs, but it's important to ensure sufficient coverage.
Are insurance requirements different for mopeds & motor scooters in Michigan?
Yes, in Michigan, the insurance requirements between motorcycles, mopeds, and scooters.
All motorcycles require liability insurance for bodily injuries and property damage, whereas mopeds generally do not require insurance unless they exceed certain speeds.
Motorized scooters may require insurance depending on size (as large motor scooters may be classified as motorcycles).
Can you legally "lane split" in the state of Michigan?
No, lane splitting is not permitted in Michigan – you're not allowed to legally drive between lanes.
Motorcyclists are required to adhere to the same lane rules as all other vehicles.
Are helmets required for motorcyclists in MI?
Michigan law requires all motorcyclists and passengers to wear helmets unless they meet specific conditions: being over 21, carrying additional insurance, and having either two years of riding experience or passing a motorcycle safety course.
Helmets must comply with U.S. DOT (Dept. of Transportation) standards.
Finding Suitable Motorcycle Insurance in Michigan
Getting the right motorcycle insurance in Michigan that suits your specific needs may take a bit of time – but doesn't need to be an overwhelming process.
Experts typically suggest comparing quotes for similar coverage from multiple providers – and determining which offers the best value for one's money.
An easy way to do this is to use the free Zip Code tool on this website – it allows you to punch in your specific location and shows you some of the top providers.
Then you can efficiently get a quote from each and figure out which insurer gives you the best policy for your needs in the state of Michigan.